The Osa Peninsula lies down the road less traveled, owing to its dense jungles and rugged beauty.  A
s one of the most biodiverse locations on the planet, the Osa enjoys both heavy rain forest and rich farmland.  With views of the crystal blue waters of the Gulfo Dulce, ever-present scarlet macaws flying overhead, and large stretches of undeveloped land, the Osa Peninsula is a popular destination for ecologically-minded travelers and a paradise to all. Both farms contain immense natural beauty and have large stretches of land ideal for ranching. 
Select the highlighted regions on the map to learn more.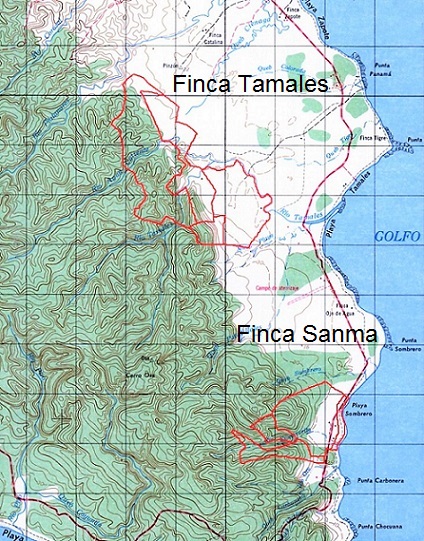 Finca Tamales: This 438 Ha property includes approximately 210 Ha of well-maintained pasture land and 228 Ha secondary and primary forest.  The farm includes flat pasture land and forested hills that back to national park land.  Year around rivers add to the property's natural beauty.  Finca Tamales is a 20 minute car ride South of Puerto Jimenez. Whether a natural preserve or operating farm, the property has a attractive price of $4.85 Million.
Sanma-Carbonera: This 233 Ha property is the best development opportunity in the Osa Peninsula.  The property boasts over a kilometer of sandy beach with rolling surf, well-groomed rolling hills having views across Golfo Dulce, and picturesque mountain streams.  The wildlife on the property is impressive.  Many are familiar with the horseback riding, bird watching, and tree climbing tours currently offered on this scenic property. This gem of a property is priced at $9.5 Million. (SOLD)
| | | | |
| --- | --- | --- | --- |
|  Property | Hectares | Acres | $/M |
| | | | |
| Finca Tamales  | 438.0552 | 1,082 | $1.11 |
| Sanma Carbonera | 233.1104 | 575.78 | SOLD |
| | | | |
| | | | |
| | | | |