Inter-American Highway Lots
The Inter-American Highway lots are located at the intersection of the Inter-American Highway, the Central American section of the Pan-American Highway, and the main road to Cuajiniquil. Their direct proximity to one of the main transportation routes of the region makes provides an excellent location for business development.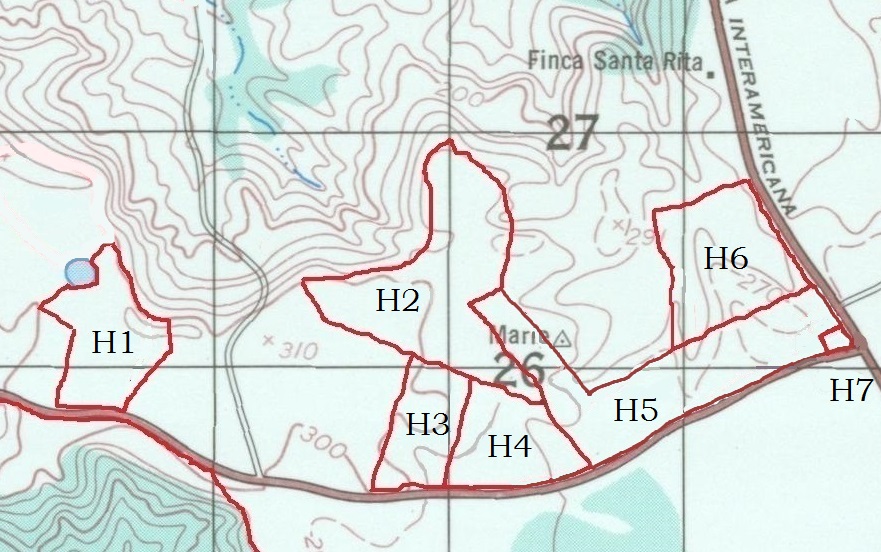 Properties may be sold separately. Pricing subject to change.
*Total is discounted when all properties are purchased together.
| | | | | | |
| --- | --- | --- | --- | --- | --- |
| | Description                 | Meters | Acres | $/m | Price |
| H1 | Hay Farm and Pasture | 21 ha 4990 m2 | 53.1 | $0.95 | $204,000 |
| H2 | Hay Farm and Pasture | 47 ha 0865 m2 | 116.3 | $0.90 | $424,000 |
| H3 | Hay Farm and Pasture | 19 ha 4854 m2 | 48.13 | $0.85 | $165,000 |
| H4 | Hay Farm and Pasture | 19 ha 4898 m2 | 48.14 | $0.90 | $175,400 |
| H5 | Commercial Dev            Hay Farm and Pasture | 36 ha 6035 m2 | 90.41 | $1.80 | $659,000 |
| H6 | Hay Farm and Pasture | 29 ha 0627 m2 | 71.8 | $1.25 | $363,000 |
| H7 | Commercial Intersection | 8000 m2 | 1.98 | $20.00 | $160,000 |
| H8 | Pasture & Forest: East side of Highway | 24 ha 0000 m2 | 59.28 | $0.70 | $168,000 |
| Total* | | 198ha 0269 m2 | 489.13 |   | $2,200,000 |